The development of new service stations will jump by 272 per cent this year with 186 projects due to be completed across the country, according to new figures by CBRE.
However, as the use of electric cars grows and revenue and profitability start to decline, development is expected to start tapering off in 2020 and 2021.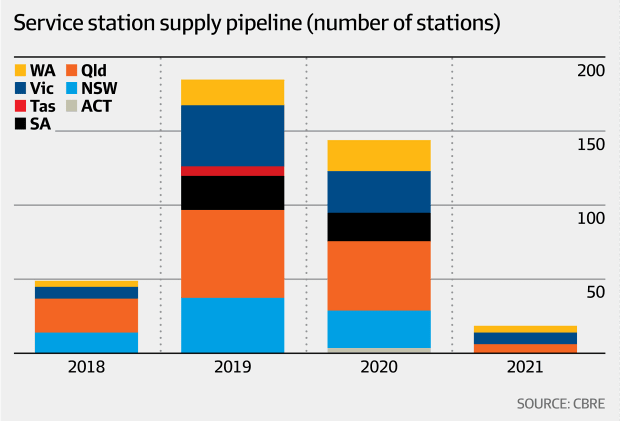 Over the next three years, almost 400 new service stations are due to be completed and a third of these will be in Queensland, a state bettered only by the Northern Territory in its lack of investment in renewable energy.
According to the Climate Council, Queensland derived only 7.1 per cent of its energy needs from renewables in 2017 compared with 13.6 per cent in Victoria and 12.6 per cent in NSW.
NSW and Victoria will account for a fifth each of the new service station supply to hit the market over the next three years, according to CBRE's 2019 Service Station Market Review.
The report expects a plethora of negative factors to affect the sector, including falling profit margins and revenues, declining demand for petrol, a moderation in the growth of vehicle ownership and the growth of the electric car segment.
However, private investors continue to favour service station investments, which typically come with long leases to the likes of Wesfarmers (Coles Express), Woolworths, BP, Caltex, 7-Eleven and United.
In a recent deal, a new 7-Eleven service station in Werribee in Melbourne's west with a 15-year lease sold for $5.93 million to a private Melbourne-based investor on a yield of 5.04 per cent.
In February, a Coles Express in Murwillumbah near the NSW-Queensland border sold for $5.8 million on a 5.95 per cent yield. In that same month, two Viva Energy-backed Westside service stations in Morewell and Sebastopol in regional Victoria sold for $5.93 million and $4.97 million respectively on yields of 6.67 per cent.
Strong demand
CBRE said service stations worth $40 million were sold in the first quarter of the year. Burgess Rawson, another real estate firm, said it sold service stations worth about $200 million over the 12 months to March with a combined total of $424 million since January 2016.
CBRE's petrol station specialist Joseph Du Rieu said he continued to field strong demand from private and institutional investors for petrol station assets despite continued headwinds about electric vehicles entering the mainstream private car market.
"The number of new projects coming online reflects the confidence major companies have in the sector, where they typically look to enter into 15-year leases – resonating with the investor market," Mr Du Rieu said.
Investors tend to favour petrol stations on corner sites and on large landholdings in areas of strong population growth, providing a future exit strategy through redevelopment into housing or childcare.
With profitability across the $34 billion fuel retailing industry falling to just 2.6 per cent according to an IBISWorld report, service station developers are also adapting their offerings to include more profitable elements such as fast-food outlets and supermarkets.
According to the CBRE report, of the projects that have been awarded council approval or have already commenced, 37 per cent include restaurant, fast-food or supermarket retail offerings in addition to the convenience stores typically offered at a service station.
The report also notes that Shell has installed fast charging terminals at 80 of its petrol stations across the UK, Netherlands and China – a trend likely to emerge in Australia, where Caltex is considering a trial of EV charge stations.
Extracted from AFR