Petrol and diesel supplier Viva Energy has advised of a drop in profit of up to 41 per cent this year as higher sales and a strong performance at its Geelong refinery failed to compensate for squeezed retail fuel margins.
The outlook wiped out the strong price gains that Viva's shares had made through November, sending them down 6.6 per cent to $1.99, their first sub-$2 close for five weeks.
Chief executive Scott Wyatt described trading conditions as "challenging" for the industry.
However, he said the restructuring of the retail alliance with Coles early this year "provided a strong platform to restore sales growth", with weekly sales rising by more than 9 per cent this December half from the June half.
The higher sales have not been accompanied by an improvement in retail margins. The commercial business, while enjoying strong sales, also saw an impact from competition, higher shipping costs and lower exchange rates.
The downgrade comes as rival Caltex Australia is fielding a $8.6 billion takeover approach from Canadian convenience retailing giant Alimentation Couche-Tard. Caltex has argued that Couche-Tard is acting opportunistically to take advantage of a near three-year low in its share price and is angling for a higher offer.
Shares in Caltex dipped 1¢ to $34.50, as the company awaits the next step from the North American firm.
'Well telegraphed'
Katana Asset Management's Romano Sala Tenna, an early investor in Viva in last year's $2.6 billion IPO, said the profit advice was little surprise given the tough industry conditions, although the size of the reduction in bottom line profit was bigger than he expected.
"It was well anticipated, well telegraphed," Mr Sala Tenna said. He added that unlike Caltex, Viva was not regarded as a takeover target because of the cornerstone shareholding held by Vitol, and had already spun off its property assets into a real estate investment trust, one of Caltex's attractions for a suitor.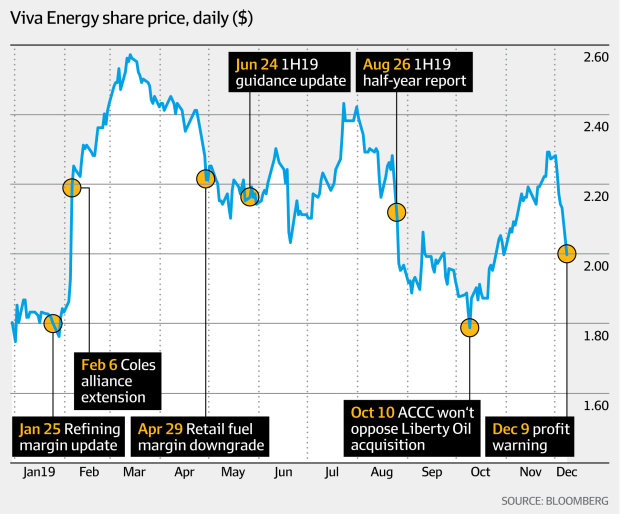 Viva said underlying net profit after tax would fall to between $135 million and $165 million in 2019, from $229 million last year.
Earnings from the refining business would be largely flat, at $120 million-$130 million, compared with $125 million last year. But earnings in retail, fuels and marketing would fall to between $840 million and $855 million, from $938 million in 2018.
Viva, which owns the former Shell Australia refining and petrol station network, said it had delivered "strong" top line sales growth of petrol and diesel.
Sales volumes were up about 4.3 per cent on last year thanks to the growth in Alliance sales with Coles and in the Liberty and wholesale businesses. The Geelong plant saw periods of record production, it noted.
Viva already flagged in August a more subdued than expected outlook for retailing earnings for this December half, citing tough conditions and intense retail competition.
Earnings before interest, tax, depreciation and amortisation in retail are expected to decline to $548 million-$558 million this year, from $609 million in 2018. EBITDA in the commercial division is seen sliding to $292 million-$297 million, from $329 million.
Mr Wyatt said that in refining it had been "a year of two halves", with very weak refining margins in the June half followed by a good recovery this December half ahead of the global introduction of stricter sulphur standards in marine fuels on January 1.
"I do feel we have made the most of the refining margin environment that was available for us," he said, pointing to the strong operational performance at the Geelong plant which he said Viva hoped to continue into 2020 when a similar production level is targeted.
The refining margin for the Geelong plant improved to $US8.50 a barrel in October and November, bringing the margin for the first 11 months of this year to $US5.80 a barrel. That compares with $US6.50 on average for 2018.
Extracted from AFR