Speaking to Australian media at the launch of its latest hydrogen fuel cell vehicle (FCEV), the Xcient truck for the European market, Hyundai has outlined why it thinks fuel cell technology has to coexist with all-electric vehicles (EVs).
The brand's representatives echoed many of the complaints of EV critics, citing range and weight as the main issues facing EV drivetrains. They said that trucks would need to lead the way in demonstrating the benefits of fuel cell technology while laying down crucial refuelling stations for future FCEV passenger cars.
"You need 700 passenger cars but just 10-15 trucks to make [a refuelling station] financially viable," explained Maik Ziegler, VP of Hyundai's commercial vehicle strategy division.
The Xcient FCEV truck carries 32kg of hydrogen, good for a driving range of 400km. It can refuel in eight-to-20 minutes and is able to carry a similar payload to a diesel truck. Hyundai says this addresses many of the issues faced by competitor battery cell commercial vehicles in development – issues that the brand doesn't see changing in the near future.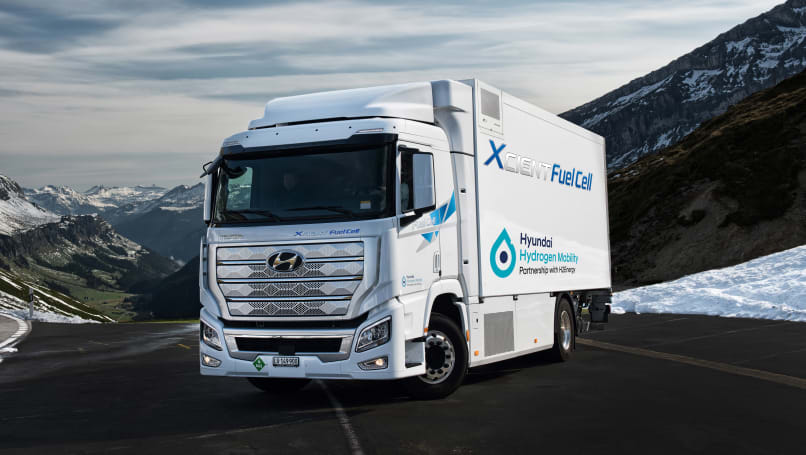 The Xcient in its current form has a 400km range appropriate for the European market, but the brand says more can easily be added.
"There are physical and chemical limitations on batteries," explained Mr Zeigler. "To get 1000km with a 44-tonne truck, you would need at least 15 tonnes of batteries, the equivalent hydrogen system would not exceed two tonnes.
"Batteries cost $150 per kWh, you can't finance that for heavy-duty vehicles."
But there is more to the FCEV vs EV argument than just payload and refuelling time. Hyundai says fuel cell passenger cars will be required to take the load of the grid at peak charging times.
"In the near future, when you have [a lot of cars] charging at 500kW, you'd need an entire nuclear powerplant for each shopping centre parking lot," said Dr Sae Hoon Kim, senior VP of Hyundai's fuel cell research and development. "We think fuel cells can coexist with EVs to split this across grids, we need two technologies."
Hyundai has so far put to market two fuel cell electric passenger vehicles after 22 years of research, the ix35 FCEV and its successor, the Nexo SUV. Neither have been sold retail in Australia, with a select few right-hand drive examples being used in the brand's own fleet, as well as 20 examples of the Nexo recently acquired by the ACT government.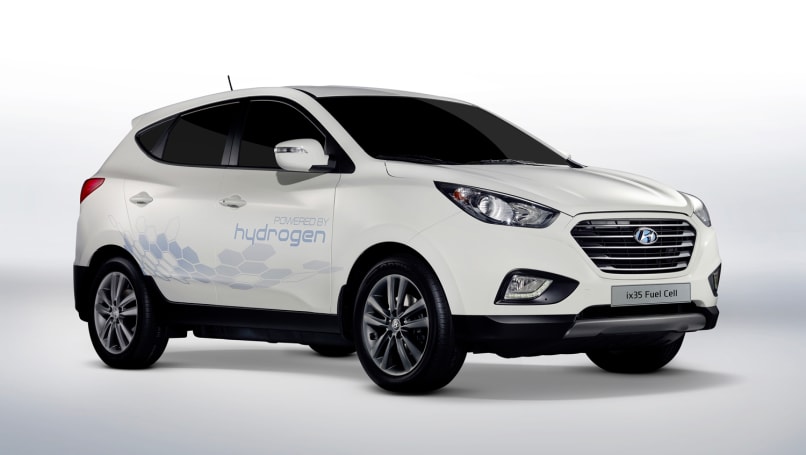 Hyundai's ix35 fuel cell was a significant step toward making fuel cell tech more consumer friendly.
But the brand says trying to crack the market with passenger cars won't work, as the infrastructure needs to be laid by heavy-duty vehicles. These then require a healthy passenger-car market to stimulate economies of scale.
"If we don't have a passenger vehicle program, it makes it difficult to reduce the cost. Trucks are benefitting from passenger vehicle research, but both have to go hand in hand," Dr Sae Hoon said.
"We will continually have a passenger vehicle program. Toyota is developing sedans [with the Mirai fuel cell], we provide SUVs, but we do need more variety in the market."
The Xcient fuel truck rolls out in Europe as part of a market-specific strategy employed by Hyundai's commercial vehicle division. It has separate product plans for the US and Chinese markets, where there are significant benefits for 'clean energy' commercial vehicles. As a result, the brand conceded that right-hand-drive products would come much later, but that the plan was not to rely on grants.
"They will disappear," Mr Ziegler said of the currently lucrative grants. "We're picking our partners carefully so that companies cannot use a single [fuel cell] truck for 'greenwashing'."
Extracted in full from: https://www.carsguide.com.au/car-news/the-new-petrol-vs-diesel-why-hyundai-says-hydrogen-fuel-cell-trucks-81018