Larry Kestelman is understood to have splashed out nearly $20 million on the Budget development site on City Road, Southbank.
Records show one of Mr Kestelman's companies, LKPG SPV3, put a caveat on the low-rise warehouse in November.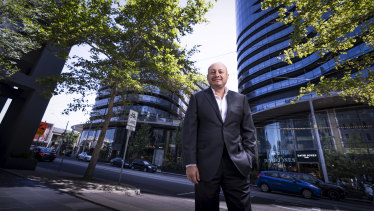 Mr Kestelman is cashed up after selling down his South Yarra holdings to Greystar last year for a new build-to-rent project in the Forrest Hills precinct.
The 293-297 City Road property had been held by a couple of private investors since 2003 – they paid just $3.105 million in May that year – and was shopped around by Vinci Carbone a couple of years ago. Not a bite for $20 million-plus as the market slumped in 2019.Advertisement
Mysteriously, none of the city's agents have put their hand up to the deal so it appears to have been done directly. Mr Kestelman did not respond to a request for comment.
The 1280 sq m site holds Capital City 1 zoning and a permit for a 38-level apartment tower. It's in a busy stretch of City Road, squeezed between two towers and across the road from BPM's Shadow Play.
It's also not far from Greystar's other new acquisition. Just before Christmas, the US build-to-rent giant paid $65 million to Singaporean developer Chip Eng Seng for 15-85 Gladstone Street.
Mr Kestelman, the founder of Dodo internet service provider, is mostly in the news these days for his role as co-chair of the National Basketball League.
But with the 48-level Capitol Grand on the corner of Chapel Street and Toorak Road finished and settlements rolling in, Mr Kestelman appears to be looking for a new tower project.
Ron Dodge
A company controlled by Point Property Group's Ron Dodge has emerged as the buyer of a large Brighton development site on the corner of Bay and New streets.
It's understood that Mr Dodge's Brighton Residential paid around $25 million for the 4079 sq m site. Records show the company put a caveat on the former BP service station late last year.
The site at 316-328 New Street and 71-73 Bay Street was amassed over an eight year period by luxury car salesman Eugene Krok and family paying around $11.27 million.
The Kroks are quiet dealers in development sites around Melbourne, last year flipping 21-27 Queens Avenue in East Hawthorn, near Swinburne University.
Savills agents Clinton Baxter, Jesse Radisich and Nick Peden declined to discuss the deal and Mr Dodge did not respond to a request for comment.
The site has a permit for a six-level mixed-use project.
Village shop
Mornington Village Shopping Centre is back on the market this month but the vendors will be lucky to make much profit.
Newpac Investment Group paid $39.38 million for the Main Street centre in 2018 and that's probably how much they are likely to get for the 7963 sq m centre this time around, no matter how hot neighbourhood centres are right now. And records show, a land tax bill lobbed this week.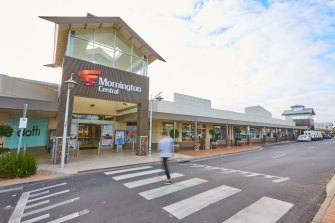 The centre is anchored by a Woolworths, an Aldi, The Reject Shop and 15 specialty shops
Stonebridge Property Group's Justin Dowers and Kevin Tong have the listing.
Last week, Botanic Ridge shopping centre fetched around $14 million off-the-plan and last month, Woolies Torquay Central fetched $25.1 million.
Kids club
An East Ringwood childcare centre has been snapped up before hitting the open market, with a Chinese investor putting up $8.2 million for the property.
Developer Bridport Property Group had only recently finished the double-storey 117-place centre at 30-32 Grey Street before selling it at a 5.4 per cent yield.
It's leased to Kids Club Child Care at $450,000 a year.
The deal was struck by CBRE agents Sandro Peluso, Josh Twelftree, Jimmy Tat and Marcello Caspani-Muto
It's on a large 1677 sq m site behind Maroondah Private Hospital, off Mount Dandenong Road.
CBRE has recently listed another childcare centre in Doreen, which is leased to Story House Early Learning with a new 20-year lease.
Extracted in full from: https://www.smh.com.au/business/companies/kestelman-has-big-20m-budget-for-southbank-site-20210219-p573yb.html