A poll of economists finds strong support for government measures to increase the uptake of electric vehicles and provide the national infrastructure needed, writes Peter Martin.
Australia's top economists overwhelmingly back government measures to speed the transition to electric cars in order to meet emission reduction targets.
An exclusive poll of 62 of Australia's preeminent economists — selected by their peers — finds 51 back measures to boost the take-up of electric cars including subsidising public charging stations, subsidising the purchase of all-electric vehicles, and setting a date to ban the import of traditionally-powered cars.
Only 11 oppose such measures, three of them because they prefer a carbon tax.
Six of the 51 who supported special measures said they did so reluctantly, as their preferred alternative would be a carbon price or a carbon tax, rather than subsidising "one alternative out of many to reduce emissions".
Cars account for roughly half of Australia's transport emissions, making them about 8% of Australia's total emissions.
Yet Australia's take-up of electric vehicles is dwarfed by the rest of the world.
On one measure, all-electric cars accounted for just 0.7% of new car sales in Australia in 2020 compared to 5% in China and 3.5% in the European Union.
Australia has no domestic car industry to protect, meaning industry policy concerns needn't hold back the transition.

Norway plans to outlaw new petrol car sales from 2025; Denmark, the Netherlands, Ireland and Israel from 2030; and California and Britain from 2035.
Asked whether Australia should take action to speed the transition, eight in ten of the 62 economists selected by the Economic Society said it should.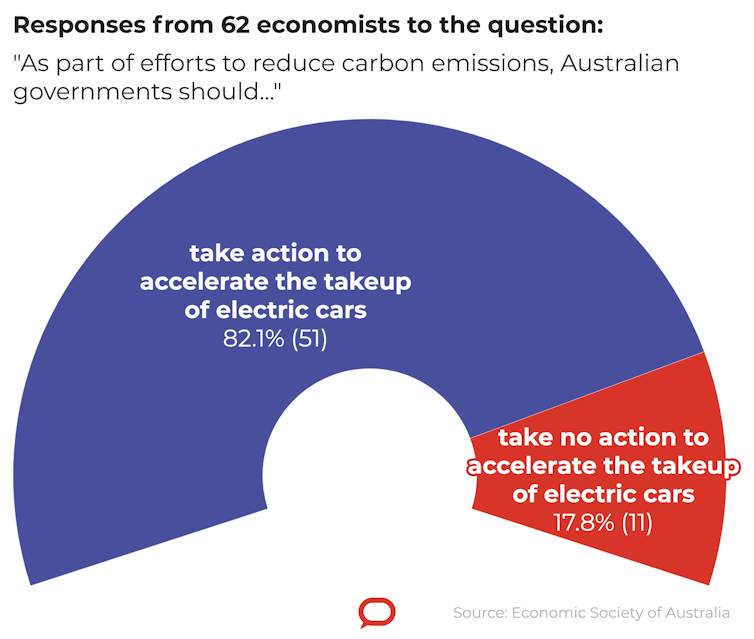 Economic Society of Australia/The Conversation, CC BY-ND
The results represent a departure for a profession whose usual advice is to avoid interfering with markets.
One participant, University of NSW professor Gigi Foster said an important question needed to be answered in order to justify government intervention: "what is the market failure here?"
The market failure was pollution, imposing costs on the community beyond the drivers of conventionally-powered cars and on the planet by pushing up global temperatures.
Broad support: subsidies for charging points
If it wasn't to be dealt with by a carbon price, measures that sped up the switchover to electric vehicles could achieve some of the same effect.
By far the most popular measure of six presented to the panellists who supported government action was subsidising public charging points, backed by 84%.
The next most popular was removing the luxury car tax from electric-only vehicles. At present the 35% tax applies to cars valued at more than $69,152, and $79,659 for fuel-efficient vehicles.
43% supported making charging points compulsory in new homes and new car parks. 39% supported setting a date to ban the import of petrol and diesel cars.
Responses from the 51 economists who thought the government should take action
"The government should…" (feel free to pick more than one)