A man who dragged a police officer while rapidly reversing his car in a bid to escape authorities has been jailed for three years for the "sudden, dangerous, violent and frightening" incident.
Liam Robert Gray, 29, jumped back into his car and reversed away in an arc while the officer attempted to stop his car at an Elizabeth Downs service station on August 6, 2020.
The officer managed to push himself out of the car, but suffered injuries to his head and leg.
The District Court previously released CCTV footage of the terrifying incident.
In sentencing on Thursday, Judge Simon Stretton said Gray had been "living a life of crime" in the decade before the incident, and had regular appearances in court.
"There is a disturbing undercurrent of violence and conflict with the police in your history," he said.
He said police had attempted to speak to Gray after noticing him squealing tyres and revving the engine of a silver Holden as he entered the service station.
But as soon as Gray noticed the uniformed officers, he immediately got back into the car and tried to close the door.
"The officer attempted to remove you from the car however you started the car, put it in gear and reversed rapidly with one of the police officers still hanging out of the vehicle," Judge Stretton said.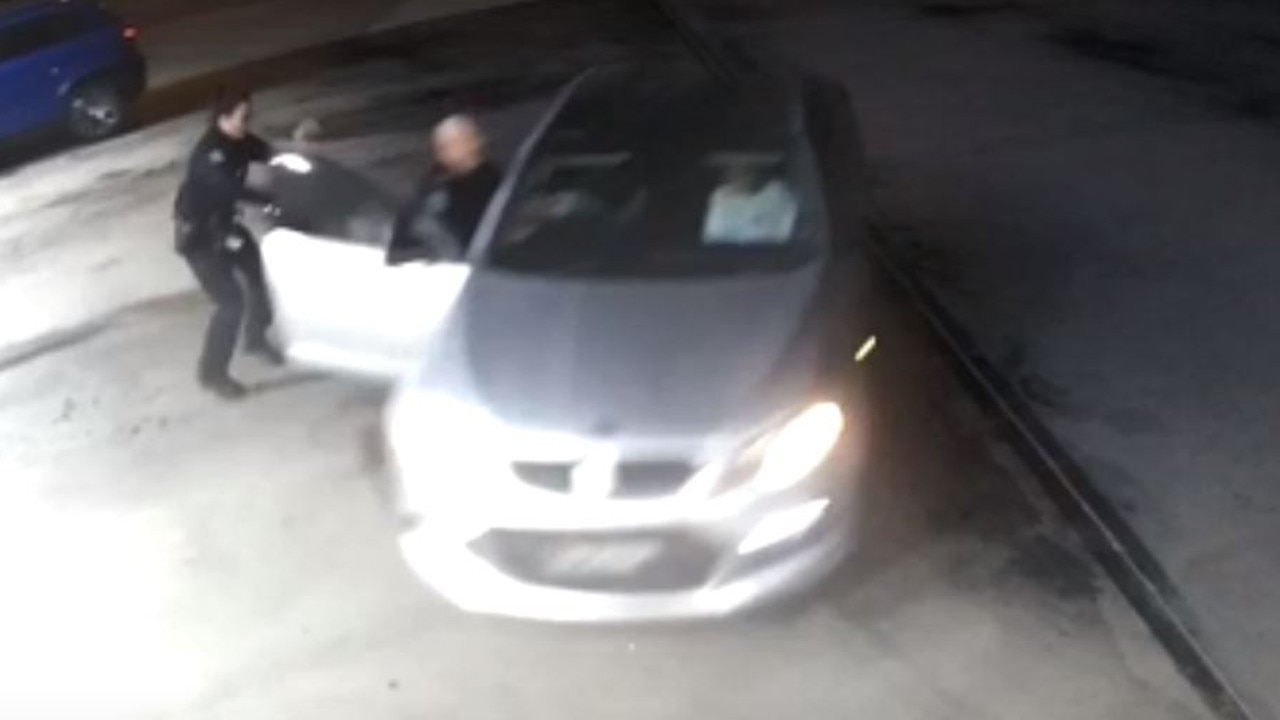 Liam Robert Gray reverses as police officer Nick Sipovac attempts to stop him at an Elizabeth Downs service station.
"Your actions were shocking and upsetting for both officers.
"The events were sudden, dangerous, violent and frightening."
Judge Stretton said Gray's actions were reckless rather than intentional, and his main intent was to evade police.
Gray was arrested the following day after he was found hiding under a bed at a suburban home.
He later pleaded guilty to a charge of aggravated act likely to cause harm.
Judge Stretton, who was also sentencing Gray for other offences including two counts of assault on his neighbours and driving offences, said his latest incident involving police was a "significant escalation" in offending.
Judge Stretton said Gray had a "traumatic and damaging childhood" growing up in a "climate of fear" which destabilised his life and led to abuse of drugs and alcohol.
"Your background does invoke considerable sympathy and provide insight into your behaviour," he said.
He said Gray had become drug and alcohol free while in custody since his arrest.
He imposed a head sentence of almost three years with a non-parole period of one year and nine months. The sentence included time for the assaults, driving offences and the revocation of a six-month suspended sentence.
Outside court, Gray's partner said he had the support of family and could turn his life around upon his release from prison.
"He's got family support, we love him. He'll do fine," she said.
Extracted in full from: Liam Robert Gray jailed for dragging SA police officer in car | The Advertiser (adelaidenow.com.au)