A young female store attendant was assaulted during a service station robbery in which the offender ran off with a small amount of cash.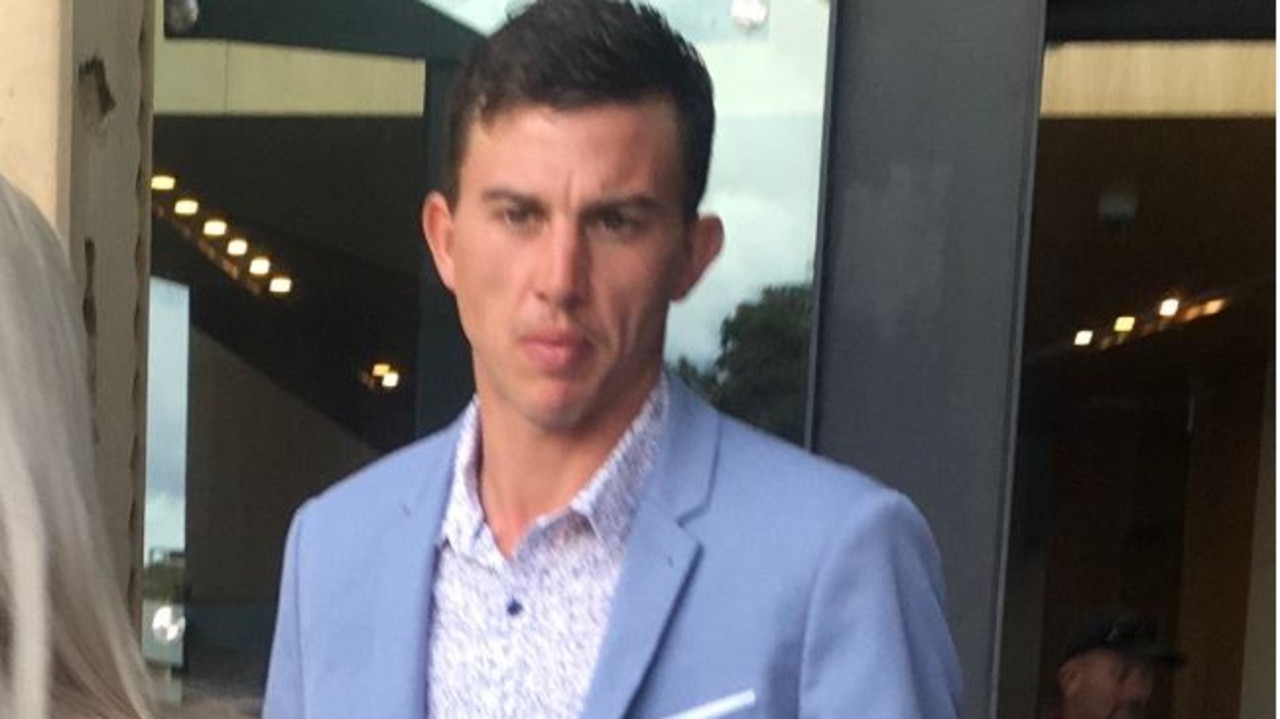 Quintin Carey-Voss leaves court on parole after pleading guilty to robbery.
IN a violent act a robber jumped a counter at a service station kicking a teenage shop attendant in the stomach and sending her sprawling to the floor.
Quintin Carey-Voss helped himself to a wad of cash from the till before running away.
Following his arrest and while out on bail, Carey-Voss went on to commit further crimes, Ipswich District Court heard this week.
Already sentenced for two later offences, Quintin Rhys Carey-Voss, 24, pleaded guilty to robbing the female store attendant and using personal violence at Hatton Vale on February 23, 2020.
The court heard the robbery occurred at 9pm on a vulnerable target, an 18-year old store attendant who was working alone.
Crown prosecutor Clayton Wallis said Carey-Vos
s walked into the store that night and handed $5 over to purchase an ice-cream.
He suddenly jumped across the counter and with both feet kicked the teenager in her stomach.
He then stole $250 from the open till and fled the store.
A security video was played in the courtroom to show exactly what he did, with Carey-Voss appearing emotional in the dock when confronted by his actions.
The security footage shows him clad in a grey hooded jacket, with Mr Wallis saying this was relevant as it was a summer night and may indicate planning for the offence.
Carey-Voss is seem jumping the counter and the attendant is struck in her chest by both his feet.
He flees the store and the young female is seen to get up and then collapse back to the floor, seemingly in stress and shock.
Mr Wallis told the court Carey-Voss was emotional and remorseful for his conduct when he was shown the footage.
"The accused at that point in his life and ensuing months was in a dark place," Mr Wallis said.
"He was apprehended by police on February 27. He was granted bail and used the time to commit more violent offences."
Mr Wallis said Carey-Voss was sentenced last October for two assault causing bodily harm offences that he committed in July while on bail for the robbery.
Mr Wallis said the facts of that crime involved Carey-Voss shoplifting a phone charger from a store in Blacksoil on July 17.
A "good Samaritan" intervened and a scuffle ensued.
Carey-Voss punched the man, knocking him to the ground where he was again punched.
The court heard he took the man's arm in his mouth and bit him twice.
He spent 77 days held on remand for those offences and was sentenced to a three-year probation order.
Mr Wallis said medical and other reports before the court demonstrated the steps he had since taken to rehabilitate.
He said the catalyst for his offending was a drug problem.
There were also medical reports about his underlying trauma and PTSD due to violence in his childhood and the death of his mother when he was 16.
Defence barrister Michael Anderson sought his immediate release on parole "to reflect his special circumstances, his personal circumstances" with a background of trauma and loss that were detailed in the reports.
He outlined the efforts made by Carey-Voss in getting off marijuana.
"He has gained significant insight and is self-employed as a roofer," Mr Anderson said.
Judge Dennis Lynch QC said the victim was only 18, working alone at night and considered a soft target.
"I accept that your behaviour demonstrates you are genuinely sorry for what you did," he said.
Judge Lynch said he took into account Carey-Voss's personal circumstances.
He noted that his health had improved considerably since ceasing drug use while in jail.
Finding that there would be little value in returning him to jail, Judge Lynch sentenced Carey-Voss to a two-year jail order with immediate release to parole.
Extracted in full from: Quintin Carey-Voss pleads guilty to robbery with personal violence | The Courier Mail