Country towns have not been deterred from encouraging more people to travel greener despite queues for electric vehicle charging stations during Easter.
Key points:
A Seymour winery owner has established the town's first electric vehicle charging station
Wangaratta's mayor says councils can't meet charging station demand alone
The agriculture sector is also embracing electric vehicles
Some councils and business operators are even looking to fill the gap in Australia's charging station market, and turn their towns into electric vehicle destinations.
It was a move that Seymour's Wine X Sam operator, Sam Plunkett, wanted to be part of.
He has just installed Seymour's first publicly available electric vehicle charger, despite the town of about 6,000 people sitting on the busy Hume Freeway.
The idea came after his business installed a large solar system prior to the pandemic.
But he thought at the time establishing charging stations was too costly.
"Bizarrely, COVID was good for our little business so we felt like we could afford it," he said.
The charger cost $14,000 and $8,000 was spent on installation.
"We thought we want to be part of the solution in reducing C02 emissions," he said.
Mr Plunkett said it was about more than money, with the business buying electricity off the grid at 32 cents per kWh, and selling it for 40 cents per kWh.
"There's kind of no business case, but it's cool to be part of the solution and helping people transition from fossil fuel to EVs," he said.
The move has attracted about two uses per day and forged connections through slower travel.
Mr Plunkett said he enjoyed speaking to customers to hear more about where they were coming from and why they were travelling.
"There's this enjoyable relationship," he said.
Beyond local capacity
A total of 120 Australian mayors and councillors, some who saw a huge demand for charging stations in their home towns over the Easter break, have this week released a statement via Cities Power Partnerships pushing the federal government to do more in the electric vehicle sphere.
"Local governments are doing what we can to switch to electric vehicles, but our hands are tied," the statement read.
"A lack of supply to Australia, and the strong federal policy to drive it, makes it difficult to transition our fleets, therefore limiting the availability of second-hand vehicles to communities.
"We urge the federal government to support our access to electric vehicles by legislating strong fuel efficiency standards."
Wangaratta mayor Dean Rees was one of the signatories.
He said it was a contentious issue for some councillors, but he wanted to sign on for a call for fuel efficiency standards.
"It's the way of the future," he said.
"If we don't get on board we will fall behind."
Wangaratta Council recently reached out to an organisation to install a charging station near the city's performing arts centre.
But Cr Rees said there was only so much local government could to do meet charging station demand.
"Local councils are restricted by the amount of money they have to run their communities so this needs to be driven federally and also by the state," he said.
'Strong' rural demand
Some regional residents are looking beyond main roads for electric vehicle infrastructure.
Farmers for Climate Action and Solar Citizens are meeting on Friday as the agriculture sector looks to embrace the technology further.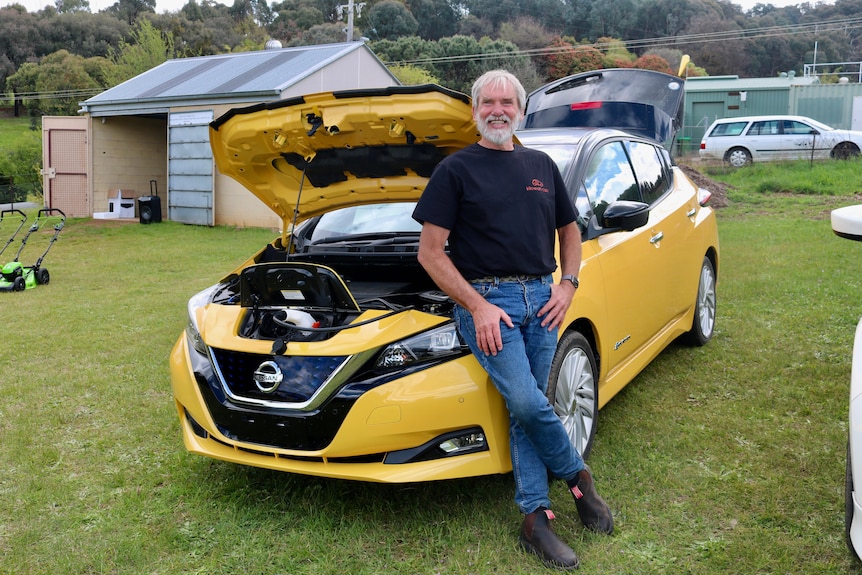 "The demand has been really strong," Kilowatt Cars director and former mechanic, Russell Klose, said.
"When you are talking EV to the farm we still haven't got a lot of choice yet," he said.
"LDV have bought out a two-wheel-drive ute, which is certainly a good beginning."
Extracted in full from: Regional communities embrace electric vehicles despite infrastructure shortages – ABC News